Wire Processing Machines Repair & Maintenance
Need a service provider for your wire processing machine repairs or maintenance? Let Galvco Engineering assist. Galvco Engineering is a leading manufacturer and service provider in the wire machinery business in South Africa, manufacturing a range of high quality wire processing machines for various purposes and needs. In addition to manufacturing our own range of machines, Galvco Engineering is also able to assist with repairs and maintenance of other wire processing machine brands.
Our extensive experience and knowledge about wire processing machines enables us to provide clients with effective repair and maintenance services for their machines, to get their machines running smoothly and hassle free just like when they were brand new. If your wire processing machine is giving you trouble, let the experts at Galvco Engineering assist. Contact Galvco Engineering today for more information about our wire processing machinery repairs and maintenance services – leading wire processing machine engineers in South Africa.

Need a Machine like this?
Why trust Galvco Engineering with your wire processing machine repairs and maintenance?
Here's why you should trust the leading wire machine manufacturer in South Africa with your wire processing machine maintenance and repairs:
Galvco Engineering provide services and products of a world class standard, ensuring that our clients are satisfied with the products and services they receive.
We are able to provide a customised product where required, offering clients a wire processing machine that meets their specific needs.
You can expect top quality workmanship when trusting Galvco Engineering to complete your wire machine maintenance and repair work.
Galvco Engineering aims to provide affordable products with a unique application for our clients.
You can rest assured that Galvco Engineering will exceed your expectations in terms of service levels, and so will our machinery.
Some of our products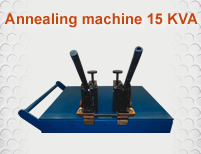 Range of products and services from Galvco Engineering
Galvco Engineering is able to assist with the following products and services regarding your wire processing machine repairs and maintenance:
Butt welders.
Pointers.
Spoolers.
Looms.
Mechanical descaler.
Brush descaler.
Annealing machine.
Coil machine.
Pad wipe unit.
Water manifold.
Sinker brick.
Placer fingers.
Pulling in dogs.
Cutting brushes.
Grooved bearings.
Stretcher cut off switch.
Pointer rollers.
Coil compacter jaws.
Rip rollers.
Indent rollers.
Brass nuts.
Fibre washers.
Annealing jaws.
Welder jaws.
Tanks.
Furnaces.
Wire guides.
Bobbins.
Tilting tables.
Air wipe.
Dies.
Pulleys and many more.
Contact Galvco Engineering today
If your wire processing machine is not performing as it should, talk to a consultant at Galvco Engineering today. We will provide you with an affordable service to get your wire machine running like brand new.